Articles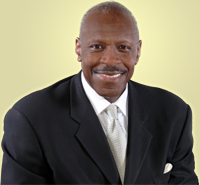 Clarence Nixon, Jr. Ph.D.
(Managing Director, Acquire One, LLC)
Dr. Nixon is the founder and Managing Partner of CNC Group, LLC. CNC Group, LLC is a management consulting firm specializing in "business transformation" or turnaround management. Possessing a wide range of management and technology skills, Dr. Nixon is regarded for his general management skills including marketing, product development, engineering, manufacturing, sales, finance, human resources and information technology. His career has revolved around implementing leading-edge business solutions through thorough planning and execution. Strong executive leadership across a broad spectrum of management positions has allowed Dr. Nixon to consistently deliver results for employers, clients, business partners and stakeholders.

Dr. Nixon is Co-Chairman of Acquire One, LLC, a Michigan-based firm with offices in Chicago. The firm was established to realize capital gains through the acquisition of companies offering opportunities for rapid growth or equity appreciation. Acquire One focuses on small to mid-cap businesses in health care, government services, and manufacturing. The company provides capital and strategic resources while aligning goals through offering management direct equity investment opportunities.

Dr. Nixon was the President and Chief Executive Officer of Real Times, Inc. Real Times, Inc. is one of the largest African American Newspaper chains within the U.S. It consists of five branded newspapers including the Michigan Chronicle, the Michigan Front Page, the New Pittsburgh Courier, the Memphis Tri-State Defender and the Chicago Defender. After assuming leadership of America's oldest and only African American daily newspaper, the Chicago Defender, Dr. Nixon focused on meeting the needs of the community. His leadership of "Team Defender" led to a new vision, improved product quality, content and profitability. As well, the Chicago Defender has implemented new products including an Internet presence, niche newspapers targeting healthcare and young readers, and a new television program; the Chicago Defender Headlines. Dr. Nixon has prepared the Chicago Defender to assume its role as advocate for the African American community. As well, Dr. Nixon's efforts propelled Real Times second oldest newspaper, The New Pittsburgh Courier, back to profitability.

Dr. Nixon was the Chief Information Officer and Process Improvement Executive for Ball Park Brands (a division of Sara Lee); Chief Information Officer for the Worldwide Automotive Division of ALCOA; and the Director of Strategic Leadership at American Cyanamid Company. Prior to American Cyanamid, Dr. Nixon spent a total of 19 years developing business acumen within the automotive industry including Ford, General Motors and Chrysler Corporation. Building on a strong foundation of an accomplished career within several industries, demonstrating proactive leadership strengths and perfecting key technological solutions throughout his career, Dr. Nixon is a leading force in change management and the continued emergence of digital technologies.

Dr. Nixon holds a Ph.D. in Management from Wayne State University, a M.S.A. in Management from Central Michigan University and a B.S. in Business Administration from Upper Iowa University. Professional development includes: executive training from General Electric (Six-Sigma), IBM, Stanford University, Wharton School of Business, Harvard School of Business, and multiple corporate training courses and seminars. Additionally, he is actively involved on several Boards of Directors, including Advocate Health Care, Detroit Public Library Literacy Advisory, Woodland Community Development Corporation. As well, he serves as Chairperson for Middle Tennessee State University's Scholars Academy. Dr. Nixon was an advisor to the Federal Reserve Bank (Chicago), lifelong member of the NAACP and member of Detroit World Outreach and Antioch Missionary Baptist Church in Chicago, Illinois. Dr. Nixon is an adjunct professor at Central Michigan University, University of Windsor, and the University of Detroit Mercy. He is the author of three books to be published in 2013 including: The Leadership of Hope, From CIO to CEO, and The Defender.