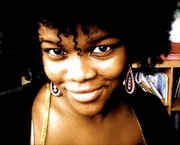 Moriah Johnson
Moriah Lynn Johnson is a senior at the International Academy in Bloomfield Hills, Michigan. She holds a 3.8 GPA and speaks fluent German. She has been inducted into the German Honor Society, a member of the Black Students Association and the Indian Student's Association. Moriah has had the privilege of living in Zurich Switzerland, where she did most of her high school education at the International Community School Zurich. She loves to travel and has been on four of the seven continents so far. Moriah loves humanitarian work and her passion for helping people has taken her to Nepal and Haiti. After graduation she will take a gap year to volunteer at the Los Angeles Dream Center in Los Angeles California, where she will help to rehabilitate and comfort women that have come out of the slave trade.
Moriah is a member of the Detroit World Outreach Church in Redford, Michigan where she is a part of the youth leadership team and participates in the choir and the dance team.
She would like to attend the University of North Carolina or Michigan State to fulfill a lifelong desire of becoming a Veterinarian Neurologist. Her other interests include: dancing, singing, drama, reading and writing poetry. She has currently published one piece of her writing.