STUDENT OF THE QUARTER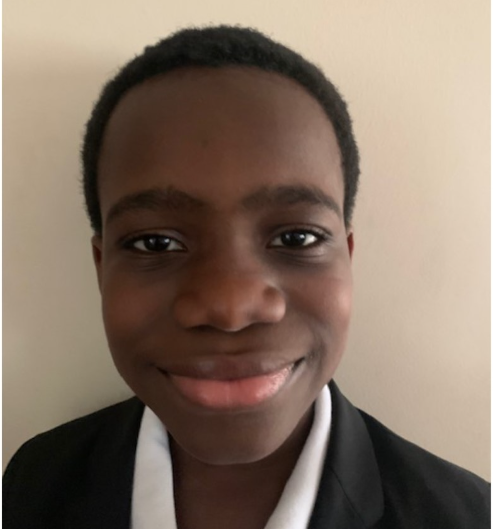 AYO AKINYEMI
7th Grade Student
t.Lab's Student of the Quarter
1st Quarter 2023
Ayo is t.Lab's "Student
of
the
Quarter."
He
is
a
highly
skilled
and
multi-talented young man,
with great curiosity
,discipline,
and exceptional core
academic skills, especially in Math and Science. As a 7th Grade Student, Ayo's weekly regimen consists of family engagement, rigorous academic development, character and leadership development, and technology training. Ayo's potential and opportunities for success are limitless!
Ayo is a 7th grade student in the Northville Public Schools. He recently competed in a STEM Olympiad at Kettering University with over one hundred high schools from 9th through 12th-grade students. He realized an ACT composite score of "31.25" including a 29 in English, 27 in Math, 33 in Reading, and 36 in Science. This score will place Ayo in the 95th percentile. Ayo is the only middle school student eligible to participate in t.Lab's Advanced Math Level 3 course.
Ayo is a fierce competitor; once he takes to a goal or purpose, he is driven to successful completion. He attributes his academic success to his parents, siblin
g
s
,
coursework in school
,
and
t.Lab
development
sessions.
Ayo's obedience and competitive nature has realized the following accomplishments over the past few years:
t.Lab Spelling Bee Winner F.Y. 2015
United States Presidential Award of Certificate Excellence 2021
3rd Place International Federal Aviation Airport Challenge 2021
10th Place in Regional Science Bee 2022
Top 10 Finisher Propaganda National Competition of the American League of Academic Games 2022
Semi-Finalist National Science Bee 2022
Microsoft Word Specialist Certification 2022
Qualified for National and International Science Bee 2023
His target goals are to compete aggressively in Kettering University's STEM Olympiad and AIM Programs, maintain his stellar GPA, realize a composite ACT score of 36, and SAT score of 1600, and a full-ride scholarship to an outstanding engineering university.
Ayo
Akinyemi
is
humble, considerate,
and selfless
.
He
receives
love, guidance, and active support in his development from his parents Mr. Dayo and Dr. Esther Akinyemi, and sibling Iyi Akinyemi. They reside in Metropolitan Detroi
t
,
Mi
c
h
i
g
a
n
. Please join us in congratulating Ayo Akinyemi as t.Lab's student of the Quarter 2023!