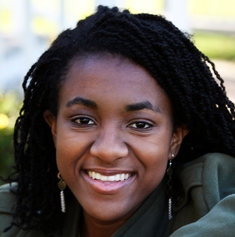 Camille Squires is a senior at Detroit Country Day School in Beverley Hills, Michigan. She has studied there for the past four years, enrolling in numerous Honors and Advanced Placement classes, with a penchant for literature and foreign languages. Camille is proficient in Spanish and Chinese, and has won an award for her performance on the National Spanish Exam. Camille's love for languages has inspired a passion for travel as well. She has had the opportunity to travel to Australia, Haiti, and Costa Rica, and looks forward to visiting China this summer.
Despite her desire to traverse the globe, Camille still remains an impactful member of her local community. At Detroit Country Day she serves as head of the Diversity Council, and is an active member of Revival Tabernacle in Highland Park, Michigan. When she isn't involved in these activities, Camille enjoys dancing, acting, and reading.
After graduating this spring, Camille hopes to study international relations at Northwestern University or Tufts University, and go on to work in international business or law.